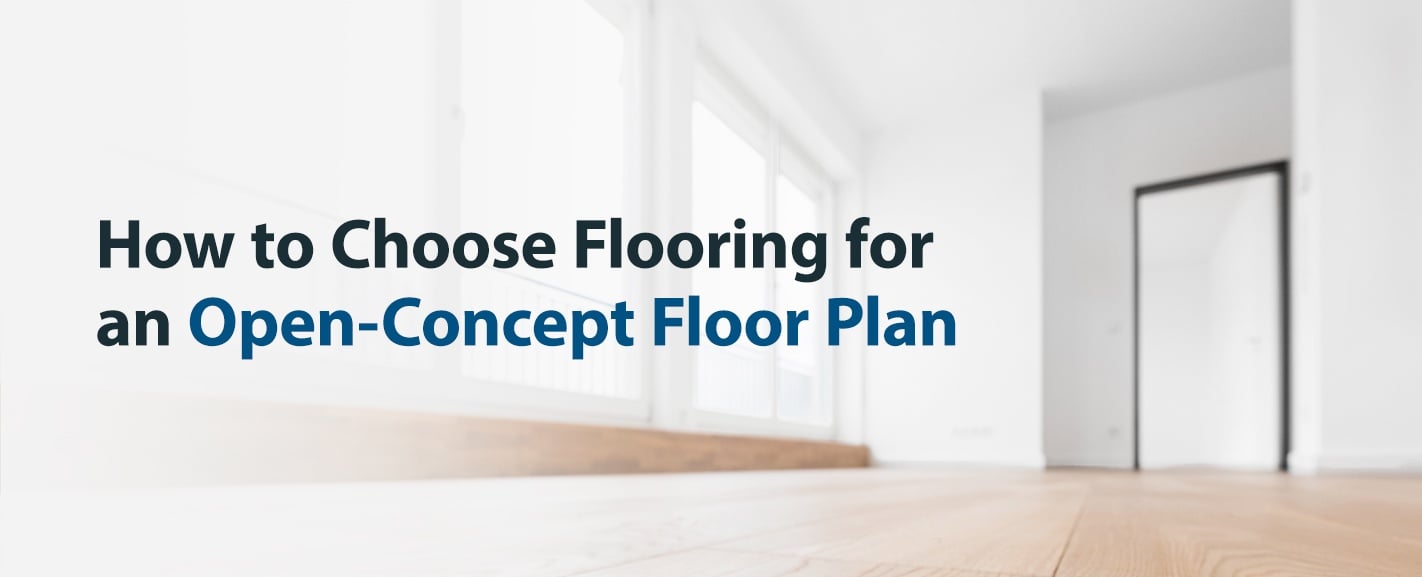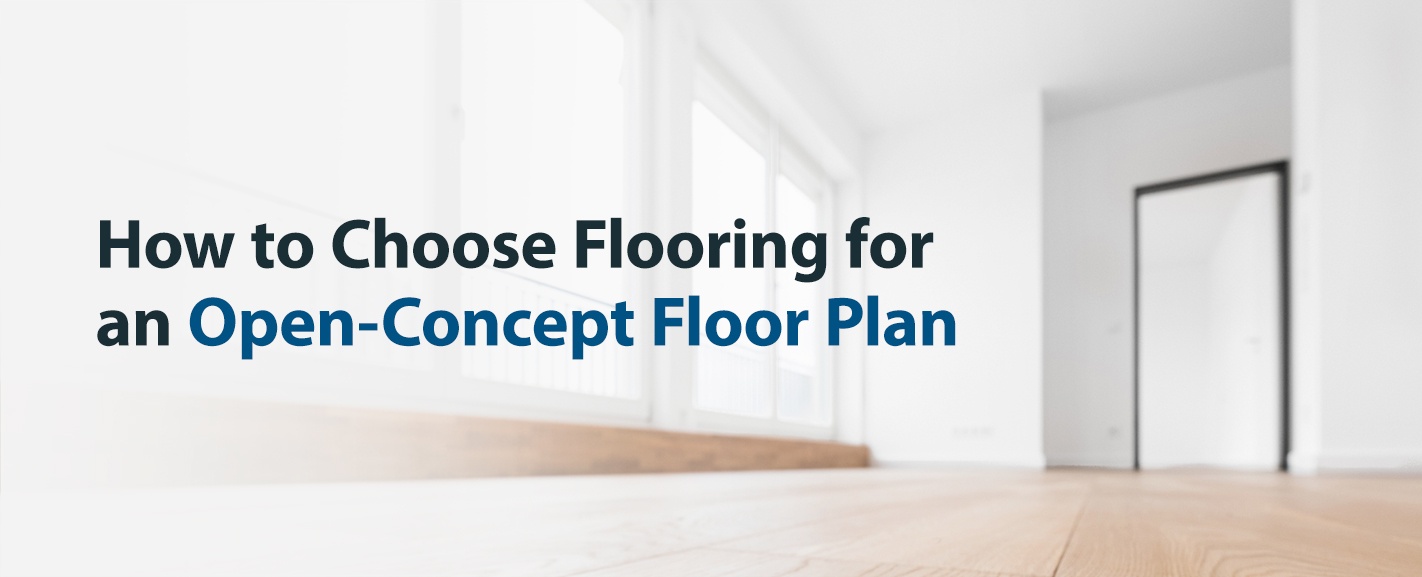 There are many advantages to an open-concept floor plan. It features clean sightlines and a brighter and airier feel. It can also provide greater airflow throughout more of the house. Additionally, with areas like the kitchen and living room in plain sight, it's easier to feel more connected to your family while preparing meals and more involved while entertaining guests.
Choosing the right flooring for an open-concept floor plan does take some thought, though. Whether you're updating your flooring in your existing space or you're completing a renovation, the right floors can define each area and enhance the overall design — but flooring that doesn't coordinate well with the space or the look of your home can have the opposite effect. This guide can help you find the best flooring for an open-concept kitchen and living room.
Things to Consider When Choosing Flooring for an Open-Concept House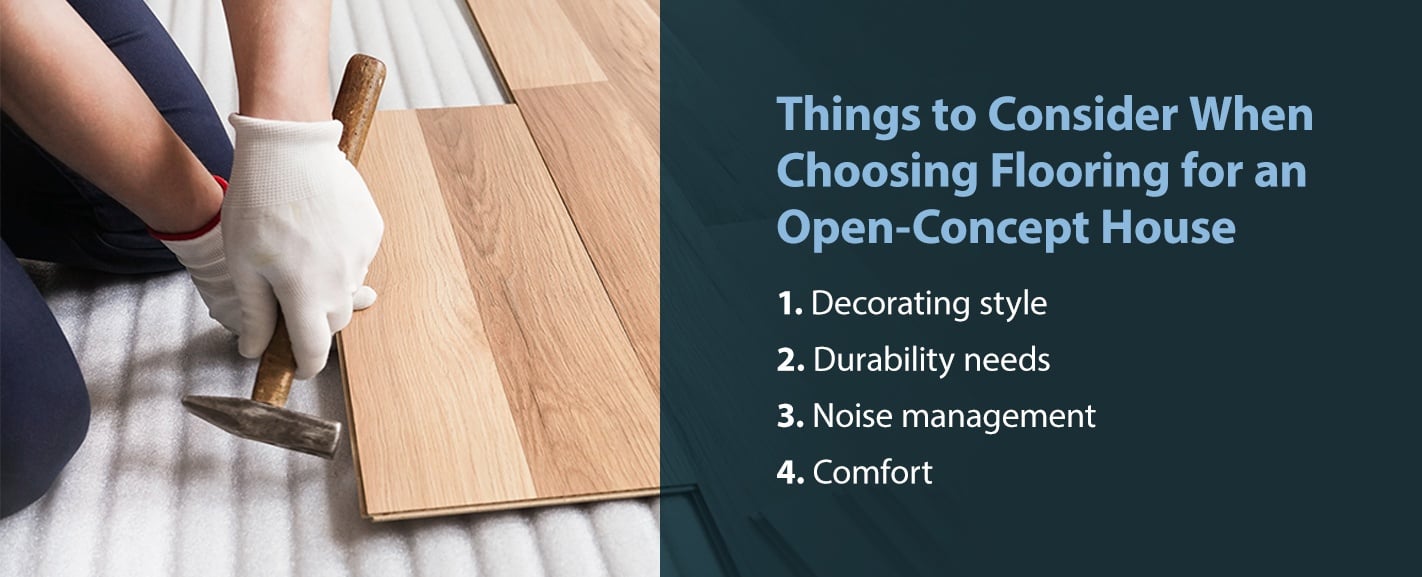 As you look at different flooring options for your open-concept floor plan, consider these factors to find the one that's right for your space:
Decorating style: Keep your home's architectural style in mind as you choose floor materials. Install flooring that coordinates with one another to create harmony among your rooms. Your floors also shouldn't distract from the overall design.Durability needs: As you think about your floor's durability, consider whether your local climate is humid or has extreme temperature changes. If you like to entertain guests or have a large family, you might want toinstall floors for high-traffic areas. The kitchen likely needs flooring that can withstand moisture and dents, and it's helpful to use materials throughout the whole house that are easy to clean.Noise management:In an open-concept floor plan, noise can travel throughout the house. While you're in the living room, you might hear someone cooking in the kitchen or watching TV in the den. Look for flooring materials that trap sound instead of amplifying it.Comfort: In the living room, you might want cozy carpet or hardwood flooring. Since you stand for a long time in the kitchen while you cook or clean, you probably want to install a material that's comfortable for your feet. If you have young children or older adults, you might want floors that are slip-resistant so your loved ones can stay safe.
Tips for Choosing Flooring for an Open Floor Plan
Once you've thought about your flooring for your open-concept house, here are some tips to keep in mind as you design your new living space.
1. Minimize the Visual Transition Throughout the Space
One of the many advantages of an open concept floor plan is that it's easy to use the same flooring throughout the entire space. However,  you may want a little bit of separation — such as defining the kitchen or dining area from the living room. 
Even if you don't use the same flooring materials in each area, you still want to keep the natural flow of the open-concept. Try to make sure the floors in each of your rooms feature similar colors and patterns to one another. This can help keep the smooth transition of the open-concept design while still providing that separation between specific areas. Otherwise, if the tile in the entryway is a drastically different color than the carpet in the living room or the hardwood flooring in the dining room, the aesthetic can become jumbled and confusing. 
2. Pick the Right Flooring Size
Open-concept tile and hardwood planks come in various widths and lengths that each contribute to the appearance of your living space. As you think about what materials would work for your spacious kitchen or small living room, try to choose plank or tile sizes that are proportional to the whole space.
Generally, large rooms should have wide-plank flooring, while narrow planks work better in smaller spaces. If you're going to use the same material throughout your whole floor plan, though, you might want to choose a broader plank to create one spacious area.
3. Choose a Versatile Color
As you pick a flooring material that works for the entire house, make sure its color complements all the rooms. It may be best to go with a neutral color, such as brown, beige or gray because it's more likely to coordinate with your walls, furniture and window treatments. One thing to note is that darker floors can last longer and may show less dirt, but lighter colors can make the room appear more spacious.
Best Flooring for Open-Concept House Floor Plan
With color, consistency and plank size in mind, consider the following flooring materials for your open-concept layout:
Hardwood: Solid hardwoodis a timeless, luxurious floor material that never goes out of style. Its natural beauty can complement any aesthetic, and it comes in a variety of plank sizes and colors. Look for a durable wood species that can withstand humidity and wear and tear in the kitchen. A polyurethane finish can also helpmake your floors water-resistant. Hardwood flooring can add value to your house and last for decades in your open-concept home.Engineered hardwood: If you'd like to have hardwood throughout your whole house but need a water-resistant material, consider installingengineered hardwood flooring. Instead of solid wood pieces, engineered hardwood features several layers of wood pressed together. As a result, this material tends to be more resistant to water than hardwood, but it can look very similar to natural wood. It's also usually more affordable.Laminate: This material that resembles natural wood features four robust layers to enhance its resistance to moisture and staining.Laminate planksare more durable in humid, sunny environments than other materials that fade in direct sunlight or warp from water damage. If you want laminate floors in your bathroom, consider installingwaterproof laminate flooringthat can last longer in moist areas.Luxury vinyl: Vinyl can also look like natural wood, but it tends to be more resistant to humidity and temperature changes. It comes invarious colors and patternsthat can complement your home's overall design. You can install vinyl sheet, plank or tile, depending on your style preferences.
Schedule an Appointment With 50 Floor
When you're ready to add quality flooring to your open-concept house, you canschedule an in-house appointmentwith us to choose a new flooring material. We'll bring samples of all our floor options to your home, so you can see how they look in each of your rooms. If you have any questions about a specific product or installation method, you can also call us at1-877-50-FLOOR.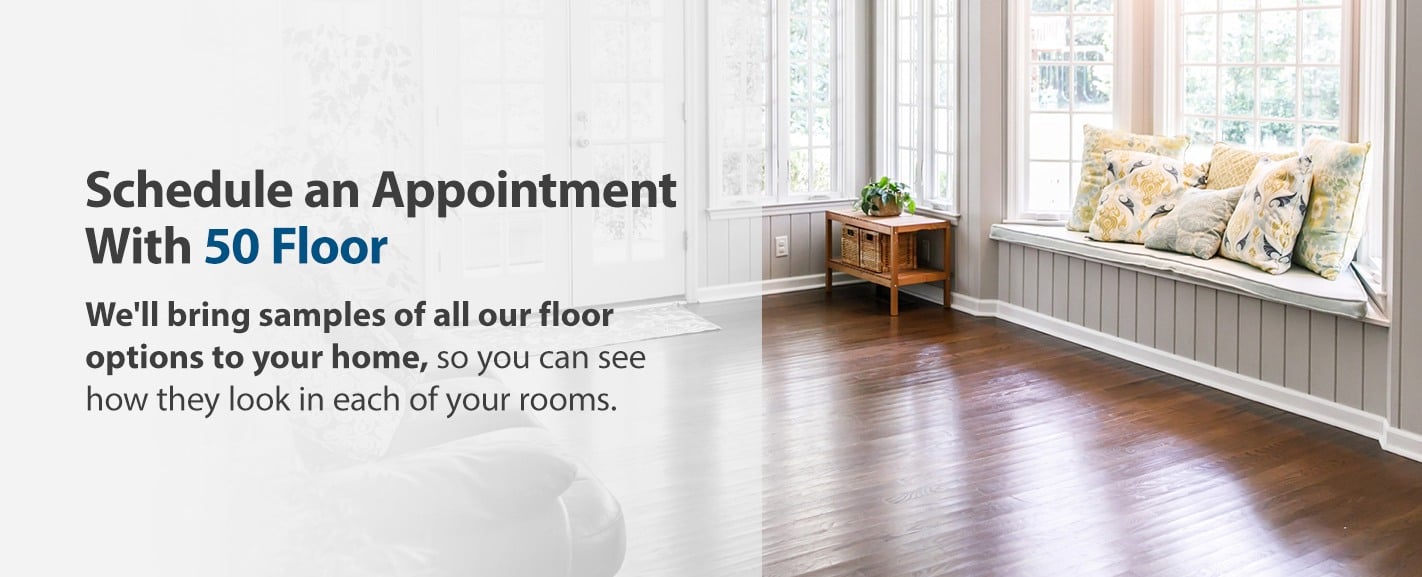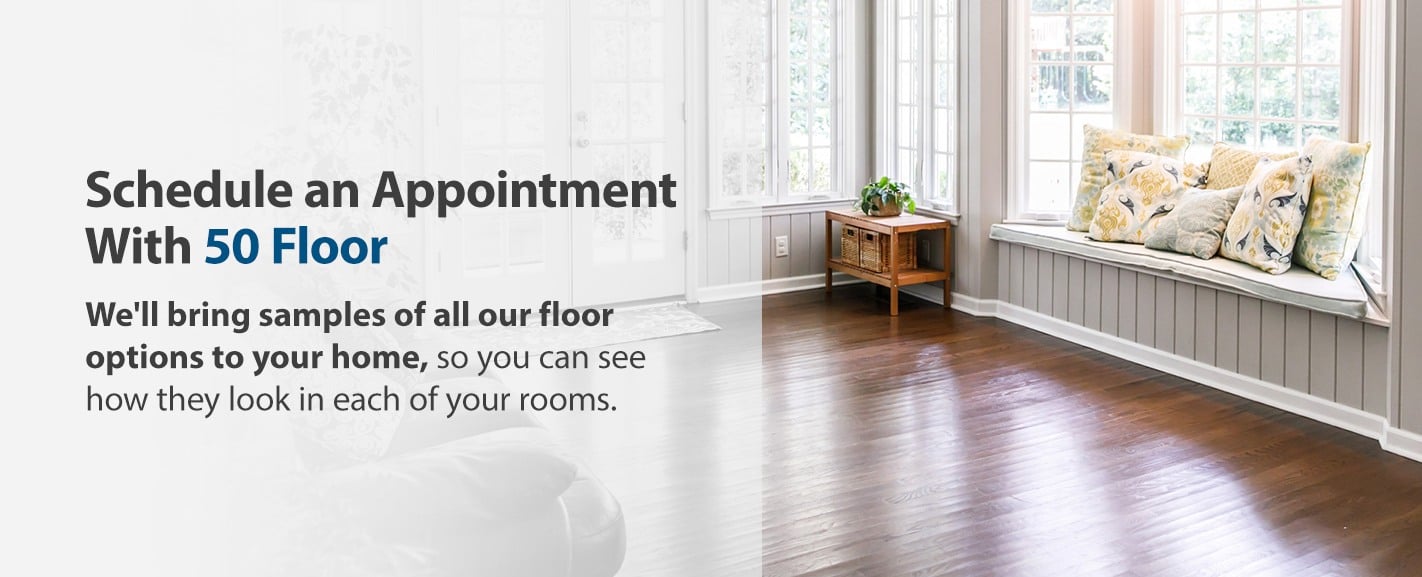 The post How to Choose Flooring for an Open-Concept Floor Plan appeared first on 50 Floor.