In home design, minimalism is the act of removing unnecessary elements. Many homeowners have recently turned to minimalist decor to help them live a more organized life that's free of clutter. However, achieving a minimalist design is often not easy, especially if you already have many belongings or a busier decor style. This guide provides tips to help you convert your home into a minimalist haven.
Getting Started
If you're thinking about making your home more minimalist, the first thing you should do is understand your "why." Why do you want to make your home more minimalist? How can minimalism help you live a more intentional life? If you have a good idea of the life you want to live and know your core values, you can more easily decide which things you want to hold on to and which to get rid of.
Declutter and edit: Having a home with minimalist decor means reducing clutter. To accomplish this, you must edit what you display on tables and shelves. Limit yourself to essential items only and keep the rest stored away in cabinets. If you find something you haven't used in many years, get rid of it. All items in your house should serve an emotional, aesthetic or functional purpose.Repurpose the things you already own:After you declutter — and before shopping for more decor or furniture — make an effort to repurpose the things already in your home. This is a great way to save money, and you may find you don't need to buy anything. For instance, consider using shoeboxes to organize clothing within drawers, with smaller boxes serving as dividers for smaller clothing items. Clear boxes are useful since you can see what's inside and can easily label and stack them. Use clear boxes in closets, kitchens, bathrooms and garages.Consider using the KonMari method:One effective way to declutter your space is by using the famous KonMari Method, which involves living a more joyful, intentional life that minimalism can provide. To make decluttering easier, sort through your belongings by category, beginning with clothes. Next, sort books, papers, miscellaneous things and finally, sentimental items. This order, which begins with the easiest things to remove and ends with the hardest, helps you hone your sensitivity to the things you enjoy most.Limit yourself to timeless pieces:One of the greatest benefits of minimalism is it allows you to invest in fewer, higher-quality items. When it comes to decor and furniture, choose well-made, classic items that will stand the test of time. Well-build pieces with clean lines will always be in style.
Choosing Furniture for Minimalist Homes
When choosing furniture for your minimalist home, you want to shop with purpose. When you buy without intention, you're more likely to end up with clutter, but you can avoid clutter if you adopt a minimalist mindset. When you shop with intention, you're less likely to buy unnecessary items. Whenever you're considering purchasing something, ask yourself, "Will this serve a purpose for me and my home?"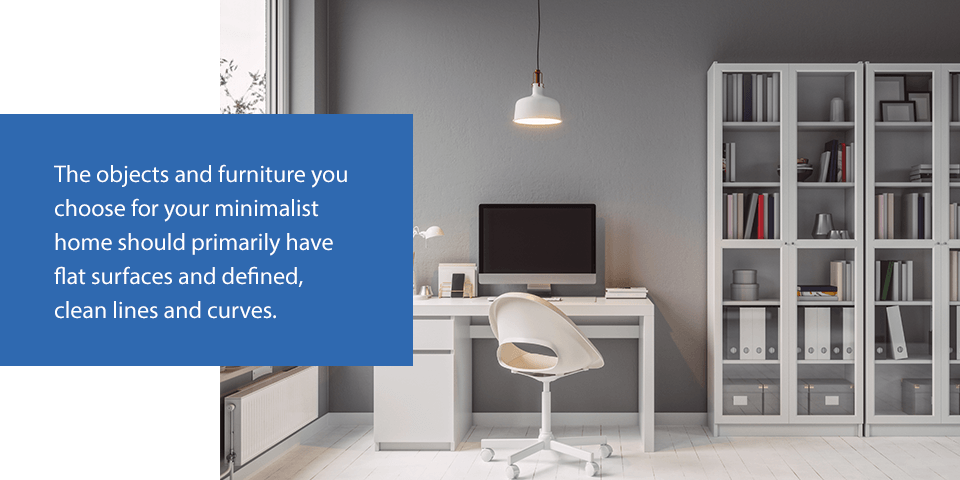 Other pointers to keep in mind when shopping for furniture include:
Aim for flat surfaces and clean lines:The objects and furniture you choose for your minimalist home should primarily have flat surfaces and defined, clean lines and curves. Cabinets and drawers with no handles are a great idea for a minimalist kitchen, as the lack of handles creates clean lines.Remember simple objects can also be powerful:When you decorate your home in a minimalist style, you may find yourself rethinking ordinary objects. While simple objects rarely catch your attention in a busy room, they can be attention-grabbing in a minimalist room where they don't have to compete with flashier items.Include personal touches in your decor:Another useful tip for decorating your minimalist home is to use your favorite items and furniture as a base. To add a personal touch, find items that are especially meaningful to you. This could be anything from your child's artwork or family photo to everyday objects like candles and books. Arrange them in an aesthetically pleasing way.Use multipurpose furniture:When shopping for furniture or deciding what to keep, look for flexible items that can serve multiple purposes or that you can easily move from one room to another. One example is a stool that doubles as a side table or a nightstand. You could also consider an entryway bench that you can use in your dining room to seat extra people.
Choosing Colors and Textures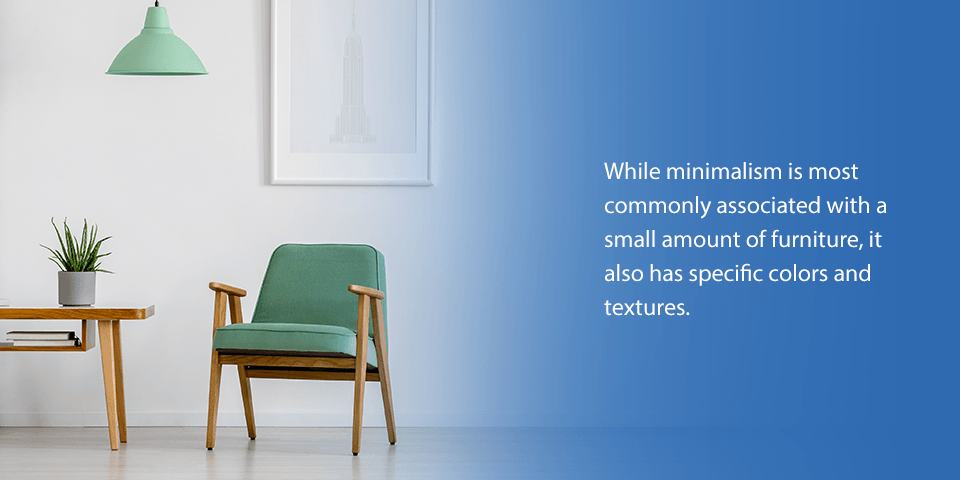 While minimalism is most commonly associated with a small amount of furniture, it also has specific colors and textures. When choosing the colors and textures for your minimalist home, consider the following:
Choose a restrained color palette: When choosing colors for your minimalist home, we suggest light colors like white, understated neutrals, pastels and faint grays. While brighter colors are permissible, try to limit yourself to just one or two.Include color beyond neutrals: While minimalism primarily features neutral color palettes like whites, beiges and light grays, you can still play around with color. The end goal is simplicity, so you can still have small amounts of texture and color through artwork, plants and textiles.Add warmth with natural textures: If your color scheme is predominantly white — a common color for minimalist homes — then incorporating natural textures can make your home feel warmer. Consider introducing handwoven textiles, natural woods and plants.Use accent decorations: Making your home minimalist doesn't mean you should avoid bright colors and decorations — just use decorative elements as accents and be careful not to overwhelm your house with too many things. When it comes to art, pick one piece of art as a focal piece rather than many small ones.Select your patterns wisely: When picking out the patterns for your minimalist home, be careful that the patterns don't overwhelm the space. Homes with minimalist decor tend to use few patterns or no patterns at all. If you choose to use patterns, select small scale or simple patterns. Use prints as an accent piece, such as on your throw pillows or curtains. You can have both, but if you do, ensure you have lots of negative space. You can't go wrong with a patterned carpet centered in the room to help break up any monotony.
Choosing Minimalist Flooring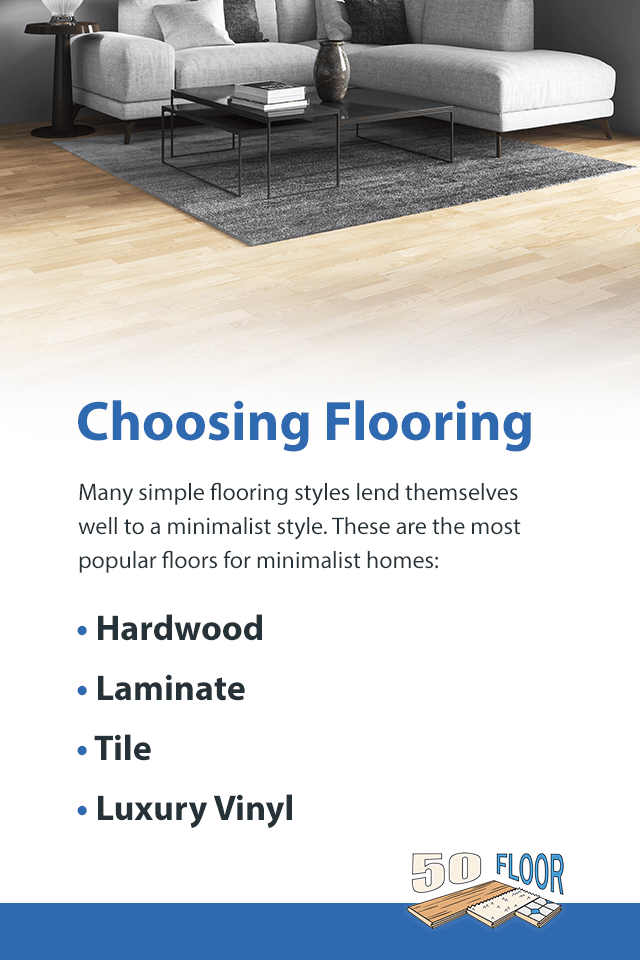 Many simple flooring styles lend themselves well to a minimalist style. These are the most popular floors for minimalist homes:
Hardwood
While this timeless material is a fantastic option for virtually any home decor, certain stains and designs can givehardwood floors a minimalist feel. Light hardwoods like maple, white oak and beech will help your home feel airy and open, perfectly fitting the minimalist aesthetic.
Narrow planks can help hide the grain, making the flooring look more seamless. If you're interested in staining your flooring, consider a gray tone, which will make your room feel brighter and bigger, giving it a decluttered feel.
Laminate
If you have a smaller budget, consider havinglaminate floors installedfor your minimalist home. Laminate flooring has seen many advancements in recent years, with modern products closely mimicking the look of authentic wood. As with natural hardwood, lighter-colored laminate flooring can help your rooms feel brighter and more open.
Tile
If you're creating a minimalist look but don't want to use hardwood,monochromatic matte tileis another option to consider. Large, wide tiles will provide your home with an airy, clean feeling, while smaller tiles can create more texture and interest in a minimalist home. A solid neutral tile will let your decor shine.
Luxury Vinyl
Like laminate,vinyl flooringhas come a long way. Luxury vinyl floors are available in planks and tiles that mimic real hardwood and ceramic or porcelain tiles. Vinyl flooring is resistant to moisture, stains, scratches and scuffs, so it works well in any room, and it comes in many color and texture options suitable for a minimalist style.
Miscellaneous Tips
One of the main objectives of minimalism is to draw attention to a few things, not many things. Empty space is one of the most important elements in minimalist interiors, as space interacts with the objects, defining the look. Equally important is visual balance, which can only be accomplished with a focal point.
Some other valuable tips you may want to consider are:
Let in light: In minimalist interior design, bare windows can be an excellent idea. Consider keeping your windows unadorned to let in as much light as possible. If you're concerned about privacy, you can opt for thin curtains or blinds. Sheer curtains let in lots of sunlight without compromising your privacy.Stay consistent with your materials: Creating a minimalist look is all about keeping it simple and making a home with a bright, relaxing, air and modern feel. To achieve this, choose between one and three materials that you can consistently use throughout your house, keeping function and practicality in mind. Use materials that feel light, like white concrete or bleached oak. We also recommend that you use neutral paint throughout your home.Try concealed storage: Another key idea in minimalism is that not everything in your house was meant to be put on display. These include utility items such as cords, lightbulbs, paper files and batteries, which can be put in attractive baskets and bins and tucked away. You can also purchase a built-in storage unit, which can make your home feel minimal and streamlined.Use negative space: Negative space highlights your home's simplicity and beauty, allowing the materials to tell their own story. Resist the temptation to fill every square inch of space with furniture or decor. Leaving a little negative space evokes peaceful, tranquil feelings and communicates the idea of having lots of space to breathe. You won't feel claustrophobic in a minimalist home. If you have lots of negative space and would like to decorate it, limit yourself to simple touches like a piece of artwork or an indoor plant, which can go a long way toward making your space feel comfortable while still adhering to the simple, understated minimalistic aesthetic.In terms of decor, think big: Minimalism requires you to have a small number of items in your house, but it says nothing about the size of those items. If you'd like to go for "less is more," consider investing in bigger rather than smaller items. Large items have more visual impact and go a long way to creating a stunning yet simple space.Look for pieces that coordinate: In minimalist homes, items should share a common language and speak with one another, creating one story. No item should complete for attention. The minimalist style aims to bring out the beauty of a view, space or artwork, so everything else must blend in harmoniously. Make sure textures and colors complement one another, and keep shapes simple.Tidy your space up regularly: Another aspect of minimalist living is regularly cleaning your space and having a place to put or store everything. Once you introduce a new item to your space, it must have a home. Deciding on a dedicated space for every item will take less time and energy than finding a new home for it each time you use it.Get creative with your lighting: Have fun with your lighting to give your minimalist home more visual appeal. Light fixtures these days come in an endless variety of options, so choosing something a bit unconventional in a powder room or dining room can give your minimal home some character.Showcase your favorite piece of artwork: If you have a collection of artworks, rather than putting your entire collection on display at once, you can display just one piece at a time and store away the rest of your collection.Remember to have fun: It's important to remember that minimalism isn't a one-size-fits-all style, and every homeowner can create their own minimalist decor. So, when deciding on a minimalist decor for your home, don't try to copy a specific look. Instead, think about what will work for you. Also, don't hold yourself to hard and fast rules, such as owning a certain number of things. Instead, use this simplifying process as a chance to play around with and get in tune with your authentic tastes, goals and values. Be patient, and work through your house one space at a time so you don't get overwhelmed.
Discover the Perfect Minimalist Flooring for Your Home
Choosing the right flooring is important, as it affects the appearance of your home, your comfort and even your health. For high-quality, durable and affordable minimalist flooring solutions,get in touch with 50 Floorfor a free appointment.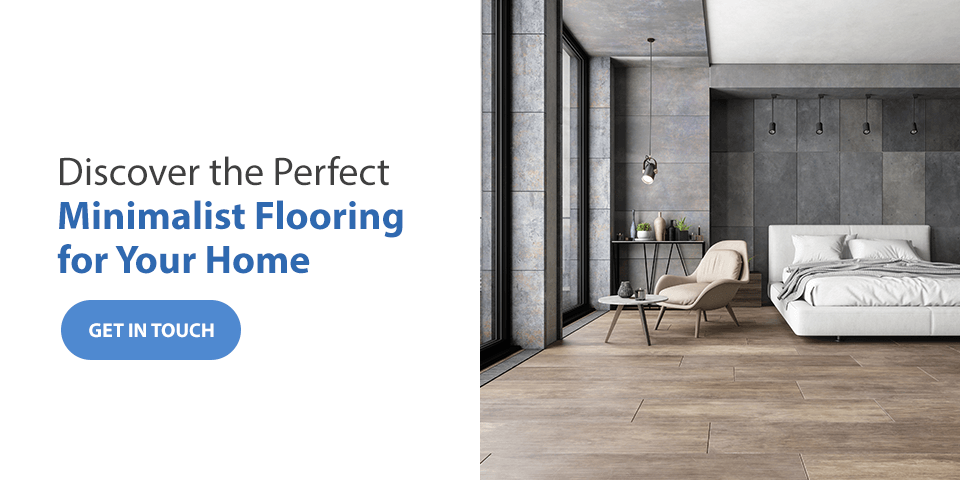 The post How to Achieve a Minimalist Design in Your Home appeared first on 50 Floor.