When designing a small functional bathroom, there are many ways to make it feel bigger and fully utilize the space. Keep in mind that aspects such as lighting, color scheme and flooring can all have a significant impact. Click this link to view great flooring options for your small bathroom. There are plenty of ways to give the illusion of a roomier bathroom and organizing tricks maximize the area. This article can be helpful if you are moving and experiencing a bathroom downsize or just looking perform a makeover in general. Now, let's dive into some things you can do to make the most of your compact space.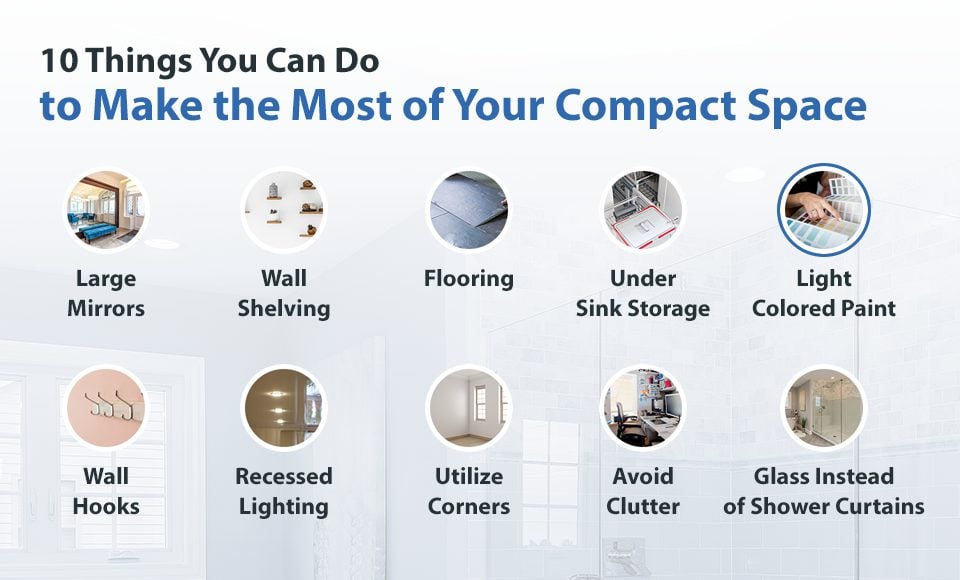 1. Large Mirrors
Our first tip in small bathroom design to extend your area is to replace your small and mid-sized mirrors. Larger mirrors play off of optical illusions to enhance the depth of a room, in turn, making it feel bigger. It is especially helpful to angle mirrors in a way to reflect the outdoors if possible. More oversized mirrors also can reflect other parts of the room, giving the illusion that the room extends further than it actually does.
2. Wall Shelving
A great way to make the most of your space is to take advantage of the walls for storage. Rather than taking up more room on the floor, moving your storage area to open or closed shelving units is the way to go. Open shelves may help give a more roomy feel but won't do much to conceal clutter. Floating shelves are also very popular amongst ideas for small bathrooms as they are simple and take up the least amount of space. Whether you utilize your wall space for decor or functionality, there is a way to do it without visually shrinking the room.
3. Flooring
Choice in flooring for small bathrooms also plays a vital role in the optical illusions of the space, as larger tiles make a room appear bigger. There are many different considerations for your choice of bathroom flooring as it varies in functionality and price. Tile, laminate, vinyl and hardwood flooring seem to be the most popular and come with their own pros and cons. However, tile for small bathrooms seems to be the most popular due to its durability, visually pleasing aesthetic, water resistance and how easy it is to clean. Flooring decisions along with wall colors are the most significant determiners when it comes to perceiving room size. This link offers a lot of insight about tile and can help you decide if it's suitable for your bathroom.
4. Under Sink Storage
While a smaller sink with no storage underneath may give the look of a bigger bathroom, it leaves less room to store your essentials, which can already be a problem with limited space. Finding the balance between a small sink area and one with underneath storage to hide clutter is essential when making the most of your small bathroom. Depending on your need for storage, either sink option has benefits for a small space.
5. Light Colored Paint
It goes without saying that a room's color scheme has a major impact on how big or small a room feels. Ever felt claustrophobic in a dimly lit room? Well, you're not the only one. It's commonly known that light colors make a room feel more spacious due to their ability to reflect light. Sticking to a color palette of creams, beiges and white for walls is recommended for small bathrooms. However, don't let this deter you from using colors; pops of earthy tones look great with this aesthetic.
6. Wall Hooks
Utilizing your wall space with hooks is a great way to make storage in a small room. Rather than folding up towels and putting them on shelves or in drawers, save crucial space by hanging them on the wall. Wall hooks are such a space saver and allow you to still keep your necessary items in the bathroom. Wall hooks in a smaller size can also be used for hanging your jewelry or hair accessories. Find cute hooks that match the energy and style of your bathroom to add variety to a functional piece.
7. Recessed Lighting
Choosing recessed lights for your small bathroom design is sometimes an overlooked factor in remodeling. Recessed lighting works because it takes up less space visually in the room. For instance, a large chandelier would draw most of the attention, taking up more room and making it appear smaller. Recessed lighting will also aid in bouncing light around the room to create the illusion of a wider space. Another benefit to upgrading to this bathroom lighting is the timeless style. Light fixture trends come and go so quickly while consistently providing the same purpose. Keeping your lighting out of the way while still purposeful will likely lead to it lasting much longer.
8. Utilize Corners
If possible, putting a corner sink or storage unit can help free up more wall space in your bathroom. Strategically utilizing each part of your bathroom will ensure that it stays uncluttered, making it appear more spacious. Putting a corner cabinet with a rounded edge can provide a lot of storage in your bathroom without appearing bulky or oversized.
9. Avoid Clutter
While this small bathroom tip may seem obvious, it can be hard to manage if you struggle with a lack of storage for your bathroom needs. Keeping surfaces tidy, with few items out in the open, will also help your bathroom look and feel bigger. One way to avoid clutter is to look for items that serve a dual purpose, such as a shower-safe bench that can also double for towel storage. If you're working with a small bathroom that is designated for personal use, following these storage tips above can help you minimize your clutter.
10. Glass Instead of Shower Curtains
This tip may require more work and be a bit steeper in price, but glass shower doors visually make your bathroom appear much bigger. Shower curtains close off your bathroom, and when already dealing with a compact space, it's the last thing you need. When working with a small room, it's so important to keep things open, including the shower. There are also options for adding glass to both your bathtub or stand-up shower.
Looking to Upgrade your Small Space?
Flooring is a great place to start when it comes to a small bathroom remodel. Schedule an Appointent to have 50 Floor experts help you discover unique bathroom flooring options to expand your space. With a wide selection of tile for any bathroom style, it's easy to find what you need. 50 Floor provides quality service matched with the best tile for small bathrooms to give you the space and upgrade necessary. Visit our website and request an at-home consultation to see what bathroom flooring options are best for you.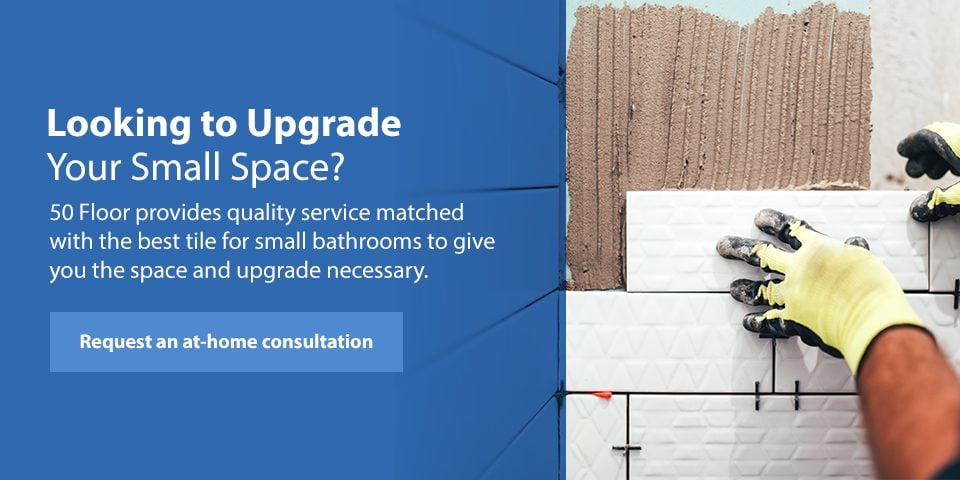 The post 10 Small Bathroom Ideas appeared first on 50 Floor.